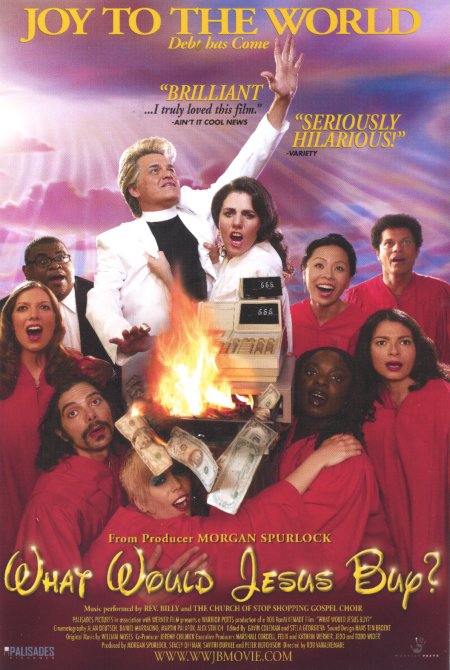 This afternoon, we all went over to West Hollywood to see "What Would Jesus Buy?" at the Sunset 5. I think that this may be the first time we've taken Lucinda to see and art-house movie, and it turned out to be quite a little adventure.
The film follows Reverend Billy from the Church of Stop Shopping when he and the Stop Shopping Gospel Choir go on a nationwide tour to try to stop the commercialization of Christmas and to raise awareness of the costs of our consumer culture. They visited the Mall of America, Disneyland, and lots of places in between, preaching the gospel of anti-consumerism. It was hilarious.
For a special treat, the director was there to answer questions after the film. The film was produced by Morgan Spurlock, who did "Supersize Me", and this film is done in a similar style, with Reverend Billy and the choir doing guerilla 'interventions' at big-box stores and malls. He uses his bullhorn to preach of the coming 'Shopocalypse'. They also performed exorcisms of credit cards to drive out the demons of debt. Overall, it was a fun time, even though Lucinda was the only child in the audience.


One Response to "WWJB?"
Carol Elaine Says:
November 27th, 2007 at 11:27 am

Morgan Spurlock pretty much rocks (I love 30 Days and SuperSize Me), so the chances of me seeing this are pretty high. Thanks for putting the word out, Stan!
Leave a Reply