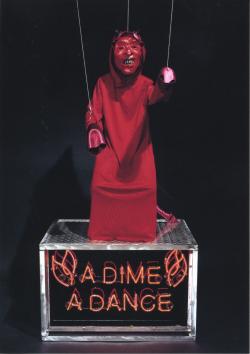 We went to the Museum of Neon Art today. This is the last weekend for the current exhibit, so we wanted to see it before it went away. And we were not disappointed.
The exhibit had two parts. One part was neon beer signs and old neon business signs from the '50s. There were some great old signs there, although sadly, the ceiling was too low for some. So we had to make do with the neon sign for "Al's LIQ", because that was all that would fit. The other part of the exhibit was neon and other electric sculptures. One piece we particularly liked was "A Dime a Dance". This was a four-foot-tall Satan puppet on strings. He was standing on top of a lucite box with a neon sign inside it. The card said, "Insert a quarter to activate the Devil". We just couldn't resist that. The speakers began to play "Pipeline", and the Devil danced for us. It was great fun.
After dancing with the Devil, we went outside and Lucinda played in the park next to the museum. Then we went to Chinatown and had Dim Sum at Empress Pavillion.. We've been going there since it opened in 1989 or so. It's always packed, even though I think the food is a bit overrated. The restaurants in San Gabriel are just as good or better. But Empress Pavillion is still one of the best-known Dim Sum places in L.A. And it was good.