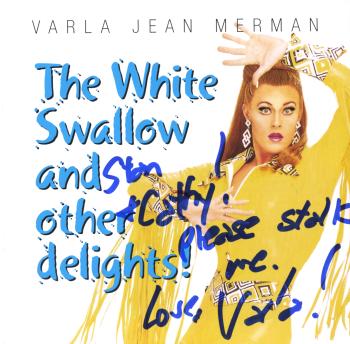 Last night, we had a rare evening out. We dropped Lucinda off with Aunt Maggi and then headed over to Hollywood to see Varla Jean Merman's new show, "I'm Not Paying For This!".
We first went to dinner at the French Market Place in West Hollywood. We had a nice dinner and browsed a bit at our favorite gay gift shop, Dorothy's Surrender. Then we headed over to the Renberg Theater at the L.A. Gay Center.
"I'm Not Paying For This!" is Varla's new show, and it's her tribute to the Seven Deadly Sins. She had a song for each, and it was very entertaining.
According to Varla, Lust leads to "guilt, a fractured tailbone, and a soiled clown suit".
Varla also displayed a new talent, playing the theme from "Star Trek" on the theremin.
At the end of the show, she did one encore, singing "Girl With a Pearl Necklace" and also her "Schoolhouse Rock" medley.
Afterwards, we bought her new CD and she signed it for us. Overall, it was a very fun evening.
Her show runs through February 5.