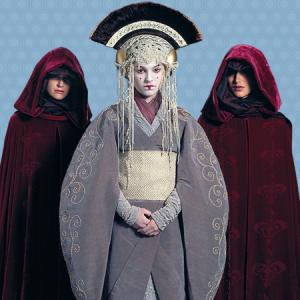 Today we went to the Fashion Institute of Design and Merchandising in downtown Los Angeles to see "Dressing a Galaxy: The Costumes of Star Wars". This was an exhibit of costumes and props from all six movies. Most of the exhibits were costumes, but there were some other things, including Obi Wan Kenobi and Darth Vader's light sabers from the original movie, and an X-wing fighter parked in the courtyard.
There was an entire side of one gallery devoted to Natalie Portman's costumes. I suppose we'll have to rent those movies some day to see why she needed so many outfits.
We also saw the complete Darth Vader outfit used in Episode III, as well as a couple of wookie suits. Also, they had various other alien beings on display. I'm not enough of a geek to be able to name them.
It was great fun seeing this stuff up close. In particular, seeing Darth Vader's light saber ranked right up there with the time I saw Maxwell Smart's shoe phone. And after seeing this, Lucinda says we have to rent the movies so she can see them.