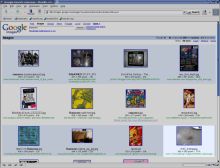 Every so often I poke around in the logs for my web site and see what people are looking at and where they came from. Today I noticed something funny. My statistics for this month said that the number three search string was 'Ramones', and looking at the logs showed that I was coming up in an image search. I went to see the Ramones live once, back in 1980, but I certainly don't have any pictures of that. I've also been to see the Ramones dead a couple of times. My picture comes up on the second page of the search results. It's from the day I rode over to the Hollywood Forever Cemetery with the bike club and we visited Dee Dee Ramone's grave and also the memorial to Johnny Ramone.
But the picture that comes up in the image search is of a squished crayfish. Why that picture? There are ten pictures with that blog entry. None of them have any alt text. How did the Infinite Wisdom of Google select that picture over the others?
I've read that Google is God. Maybe there are some things Man was not meant to know.