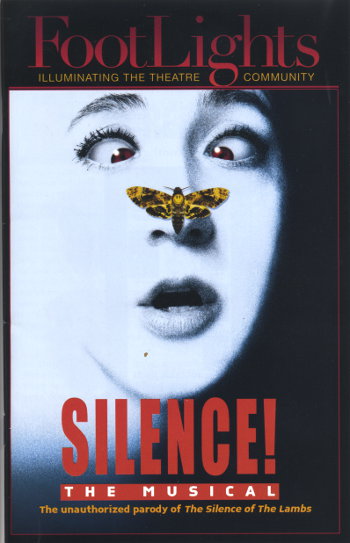 A few weeks ago, we were on our way to the Wilshire Ebell Theater to see Aimee Mann, when we passed the Hayworth Theater and its marquee announcing "Silence! The Musical". We were curious, so we looked it up, and it sounded like fun. It's a musical based on "The Silence of the Lambs", complete with singing Agent Starling, singing Hannibal Lecter, and a chorus of sheep singing and dancing on stage. So we got tickets, and tonight was the night.
The theater is just on the other side of MacArthur Park, not far from downtown Los Angeles, so it was pretty easy to get to. There's a parking lot next to it, so that was very convenient. Our seats were on the side, on the third row, so we were up close for everything. And as we'd hoped, the show was hilarious.
Before we went over, we found the movie on Amazon streaming and started watching it. It had been many years since either of us had seen it, so we wanted to have it fresh before seeing the show. And almost all of the non-singing dialogue in the show is verbatim from the movie script. But then Agent Starling and Hannibal Lecter break into song and the sheep start dancing, and, well, it's just hilarious.
This is easily as funny as "The Book of Mormon", and also comparable to "Pulp Shakespeare". I recommend it highly, but hurry. It's only there for another week or so.
Here's a little preview on youtube with the original New York cast: http://www.youtube.com/watch?v=jjbqxm_NeAs