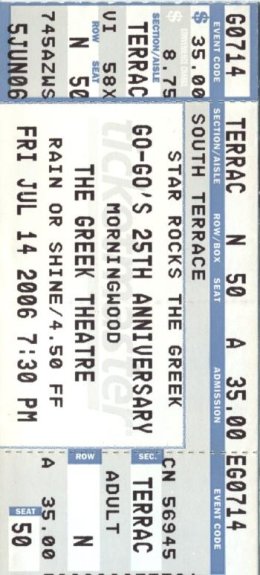 We recently saw that the Go-Go's were going to be playing a show at the Greek Theater in honor of the 25th anniversary of "Beauty and the Beat". Cathy and I both saw them back in the early '80s when we were young and single, and we also went to their reunion show in 1989 when we were married. So we thought it might be fun to go and take our daughter along. She knows all the songs, and she thought this sounded like great fun.
We had an early dinner and headed over. We got parked in solid there and walked into the amphitheater. It was dusk when we got there. The opening band was Morningwood, and they were very good. Lucinda didn't ask what their name meant, which was probably just as well.
The Go-Go's took the stage at about 9:00 and their first set was all the songs from "Beauty and the Beat", which was a nice trip down memory lane. It's hard to believe it's been 25 years, and their songs obviously appeal to the younger crowd. There were lots of people in our age bracket there with their kids, and the kids were all singing along and looking like they were having a great time.
The first time I saw them was in 1981 at a tiny little club in Houston. My friend Mike got free tickets, and we spent the entire show pressed up against the stage, practically looking up Charlotte Caffey's skirt. But it was Jane Weidlin that we all fell in love with. She had the best stage presence and personality, and we all left there that night with a huge crush on her. And tonight she showed that she still has it. She bounced around the stage, and my crush was renewed again. But then again, I've always had a thing for cute girls with short black hair, even if they are in their 40s.
We got lucky in that their was a mom and her young daughter sitting next to us, so Lucinda and the other little girl enjoyed watching the show together. They danced in the aisle and sang along. It was very cute.
Towards the end, Lucinda started to get tired, but the show ended at 10:30, which wasn't too late. The Greek has a curfew due to the houses nearby, so the shows there never go late. When it was over, we headed home. It was a fun little adventure.