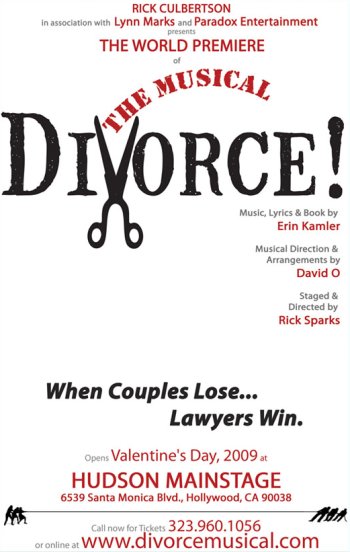 Given all that's going on in my life right now, could this new show be any more timely? A card came in the mail the other day for "Divorce! The Musical".
On the web site, they say:
There's a great saying: tragedy plus time equals comedy. If you've ever been divorced, then you know this is true.
DIVORCE! depicts a journey many of us have shared– a journey through sadness, bitterness, irony and above all, that miraculous ability we all have to heal, forgive and move on.
And the Playbill article linked from the site says:
According to production notes, "Set in present-day Los Angeles, Divorce! The Musical takes us on Penny and Rich's journey, as their fairy-tale marriage unravels. Denial, deception, and raw outrage collide with greedy lawyers, dramatically inclined family members, mountains of paperwork and out-to-lunch therapists. Divorce! The Musical reminds us that laughing in the face of tragedy can sometimes be the best way to move on."

Musical numbers include "Till Death Do Us Part," "I'm Living In My Parents' Basement And My Friends Forgot My Name" and "Half."
This sounds like a hoot. Even though my divorce process is nowhere near finished, I'm ready to laugh about it.