A Visit to a Russian Submarine
---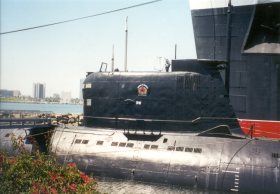 Here is the submarine, with the bow of the Queen Mary in the background.
There is a Cold-War-era Russian submarine on display next to the Queen Mary in Long Beach, California. It is the Scorpion, and is a representative of the former Soviet Union's Foxtrot-class diesel-electric attack submarines. It was built in 1972, and performed active duty until 1994. The Queen Mary web site has a brief history of the submarine and a fact sheet which give some background information about the boat.
There is a short video presentation, which is a bit cheesy, but it talks a little bit about the history of the submarine. Most of it is a not-very-slickly-dramatized show of how submarines and surface ships hunt each other.
The tour is self-guided, and traverses the main deck of the boat from bow to stern. In each room, there were signs and speakers playing a recorded narration describing the function of each room. The narration was not bad as far as its content went, but the actor they hired to read the script sounded like he had learned his Russian accent from watching old episodes of Star Trek. Most of the time he sounded like Chekov, but some of the time he sounded more like Scotty. The effect was a bit disconcerting at times.
Anyway, it was an interesting tour, and it fit well with our hobby of collecting souveniers of the Cold War. So here are our pictures from the tour. Click on the picture for a larger view.
---
| | |
| --- | --- |
| | Here is an escape suit. If they needed to abandon ship, a sailor could put this suit on and be fired out the torpedo tube. Yikes. They didn't say how many of these suits the boat carried. |
| | Here's Cathy in the forward torpedo room. The topedo racks also doubled as bunks for the sailors. |
| | Here is a view of the Captain's desk. The officers' quarters were spartan, but not bad considering the extremely limited space available. The narration said that the 10 officers had their own quarters, but the enlisted men had to share bunks in the fore and aft torpedo rooms. |
| | And of course, no submarine is complete without lots of valves and pipes. These are in the control room. |
| | The sonar operator's station had a stool, and made for a good photo opportunity. Here's Cathy... |
| | ...and Stan. |
| | Here is Cathy leaving the control room and heading into the engine room. |
| | Here is the space between the two big diesel engines. They replaced the covers on one engine with clear plastic so we could see inside. |
| | Cathy checks out the bunks. 54 sailors hot-bunked in 27 beds. As you can see, the beds were nothing great, but people do what they have to do. |
| | Here is the head. Spartan, even by submarine standards. They said that the crew was allowed one one-minute seawater shower every three days. It's probably best not to try and imagine what the inside of the boat smelled like. |
| | Cathy is shown here climbing through the door to the aft torpedo room, which was the last room on the tour. The doors to the fore and aft topedo rooms were these small round hatches. The doors between the rooms in the center of the submarine were somewhat larger and easier to get through. |
| | Here is one of the aft torpedo tube doors. They only had four torpedos aft, and these were loaded in port. The only reason for the doors was if they had to use the torpedo tubes for emergency escape. |
| | Here is one of the Damage Control boxes. Note that their damage control equipment consisted of wooden wedges and a C-clamp. Yikes. |
| | Here are some of the wooden wedges. The sign said, "To temporarily seal hull breaches and keep machinery from vibrating." All they needed was a roll of duct tape to make it complete. |
---
June 20, 2000
copyright © 2000 by Stan Schwarz




Home